Accounting Software - Standard Edition
Accounting Software - Standard Edition maintains billing and inventory (stock) details of the company. Software is fully capable to record and processes accounting transactions within various functional modules including Account receivable, Account payable, General ledger, Stock/inventory management, Purchase and Sale order with other advanced option.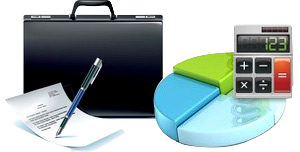 Financial Accounting Software is useful for various Industries and Organizations including: Manufacturers, Shipping industries, Telecom companies, Product marketing, Warehousing, Healthcare agencies, Retailers, Chemicals industries, Transport companies and other similar business organizations.

Software Features
Software maintains business accounting transaction records, Customer, Vendor, Item, Store and other information.
Provides option to export the generated reports in PDF and MS-Excel file formats.
Manage inventory and invoicing details of any business organization at one place.
Software generates printable accounting reports including Item report, Ledger report, Sales order report, Purchase order report and Income and Expenses report.
Password protected and Freeze date feature restricts unauthorized user to access important accounting records and reports.

Related Link for: Accounting Software - Standard Edition